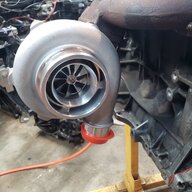 Well-known member
Hi everyone, I took the stock turbo pretty much to the limit, so I decided to switch over to my new "upgraded" turbo!
The turbo, as the title suggests, is from a 2021 Lincoln Corsair 2.3T. It's internal sizing matches that of the Ranger/Explorer turbo, but the housings basically match the Maverick's turbo, because of packaging in the fwd layout, or transverse layout as it's more commonly known.
Installing a turbo on these truckettes is not for the faint of heart! It is a LOT of work, especially if it's awd, as the transfercase makes getting at the mounting bolts very difficult.
However, it is what it is. If you are cheap like me, this is how you pay to play!
So let's get into the reasons for this. First off, there is no upgraded turbo for our Maverick's yet, and this turbo mates up to all of the factory intake and exhaust! As in zero modifications needed!
Secondly, if you look at the performance benefits, these turbos, on 93 octane, peak out at 330ish whp, whereas the Maverick's turbo tops out around 270whp. This is based on dyno graphs I sourced from 5Star tuning. This is a MASSIVE GAIN for the cheap cost of these turbos! I spent about $350 after taxes on mine from ebay....
Onto the modifications needed to bolt this on. If you buy the oil and coolant lines from Ford, roughly $200, there are no modifications needed! I cannot say this as a fact, as I modified my factory lines to work, but with the 2.0 and 2.3 blocks being the same, I'm 99% sure this is the case.
I am cheap, and wanted to see if I could make the factory lines work, and I did! Some of the modifications to the lines will be pictured. Literally only had to cut grooves into the mounting flanges.
If 330whp isn't enough for your Maverick, there is an additional option for more power! CRP Engineering out of Canada modifies the ranger/explorer turbos for $900-1100, if you send them this turbo. Included is an upgraded billet wheel, 54mm or 57mm options, and will support over 425whp!!!
So, all this being said, I think I'm the first to put any upgraded turbo on the Maverick, and I will be updating this thread, and my
Project QuickRik build thread
with numbers when my tunes come in. Right now I'm running my 5Star 87 performance tow tune, and with easy driving it feels great! I won't speculate on gains until the new tunes are in and modified to my liking!
Thanks all for looking, and let's hope 2023 is an incredible year for Maverick Performance!
Edit: Added a picture of my truckette! Completely sleeper status!
Last edited: