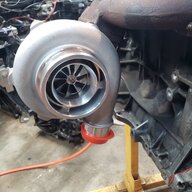 Well-known member
Hey guys, I've been inching down on the quarter mile with QuikRik, and in this cold weather it's gone insanely fast! The E30 must really love the open downpipe!
Full mods list are as follows:
2020-2021 Lincoln Corsair 2.3T turbocharger
Rev9 Focus RS intercooler
Homemade 3" intake with cone filter
3" homemade downpipe
No Exhaust
5Star tuning E30 tune(will be trying to push it harder as well)
Weight reduction: tailgate, passenger seat, rear seats. (Somewhere around 190ish poinds)
And the best part is, I'm into this project for roughly $1200!
Enjoy! Hope this will serve as inspiration for others to create their own monsters!
Last edited: