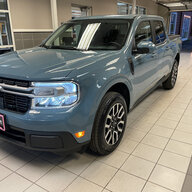 Well-known member
This is the official Ford Accessory Tailgate Assist - Hydraulic.
I like it!
Pros:
No more babying the tailgate down
Neutral:
Installation was easy but the last bolt that has to be twisted inside the tailgate was a little tricky. Have a helper.
Cons-ish:
A little slowish, not the F150 stock speed, but it's new so it might get better. You have to remove the bottle opener,hook point.
Updated with another video (belonging to another member)
Update
- the bed mat you see in the photo are actually two pieces of this exercise mat taped together with butyl tape.
https://www.menards.com/main/floori...6584011607.htm?tid=2735983253595367499&ipos=6
Updated with more bed mat details:
Awesome, thanks. More pics of truck bed and how you custom cut that mat. Looks great.
It was a process takes a moderate amount of layout skill. Took about 2-3 hours. I made templates out of thin cardboard. Then transferred to the mat. I used a
Hultafors Talmeter
to measure the internal spacing and transferred that to the mat to cut(box cutter plus sturdy scissors). Started with the middle mat as you can see with the dog picture. Marked the center of the bed and went from there. Next did each side piece and worked toward the cab. The curved parts were the most time-consuming. Sorry, I don't have more process picks. I just happened to be taking pictures of the dog.
The mat is a pretty hefty material. Taped it together with butyl tape. It would take A LOT of force to puncture or tear. I had 3.5 leftover squares. Totaled about $45 in material cost.
Last edited by a moderator: