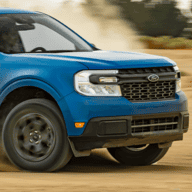 Administrator
Staff member
Ford is not resting on the strong response to its Maverick pickup, and has begun testing a more off-road-focused prototype, as evidenced by this new prototype we spied.
Different Camo Catches Our Eye
This new prototype gets a fresh disguise treatment—different from prior Maverick's caught before it went official. Those earlier Maverick prototypes had graphic camo stretching into the roof pillars, while leaving the lower ground effects and bumpers undisguised. This new Maverick prototype has its bumpers and side sills fully camouflaged, while the graphic wrap stops just below the door handles.
New Off-Road-Focused Front Bumper
While all current Mavericks get traditional front bumpers, this prototype shows signs of a new front skid plate, and a design that promises a much better approach angle. What at first glance looks like a disguised bumper with a rather low front chin, looks phony upon closer examination. It appears that Ford's disguise artists have placed fake caps on the outer corners of the front bumper, to hide the new clearance-minded design treatment.
FX4-Based Prototype
This prototype has a visible FX4 sticker on the rear corners, and the visible independent rear suspension confirms that this Maverick is AWD.
It's too early to tell how deep Ford will go down the off-road rabbit hole on this Maverick prototype, but it's clear that efforts are under way to keep the lineup fresh as it goes into its second year on sale. As we know,
Ford trademarked the name "Rattler"
, and many believe this new moniker is destined for a special-edition, more off-road capable Maverick. We're not sure of the name, or what else might be hiding beneath that camouflage, but Ford is clearly working on a special new Maverick variant to satisfy more adventurous customers.