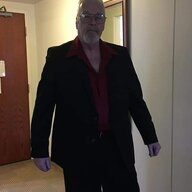 Well-known member
First Name

James
Joined

Aug 18, 2021
Messages
Reaction score

138
Location
Vehicle(s)

2017 KIA FORTE 2002 CHEVY SILVERADO
Trim

XLT
Morning!

We ordered a new replacement turbo for the Maverick. Judging from the tuning and dyno results we are seeing there are many things holding the engine back from making any big power numbers, the turbo is definitely one of those!

We dropped the secondary cat yesterday in search of more power. This also proved what the exhaust did, the computer with the stock tune became even more unhappy cutting power back even more. After a change to the tune power came back and is more repeatable without so much heat being registered in the primary cat.

The turbo is small, smallest I've seen on a 2.0 engine. Explains the great response but also explains why it's tough to have large increases in power/torque/boost levels.

The turbo is being sent out to our turbo builder today, we've been working closely with and setting a lot of records with Forced Performance/Xona Rotor for many-many years. They are going to work some magic on this and by the time we get it back here our production exhausts, intercooler, downpipe etc., should all be done and available. It will fall right in place with everything. Turbos will then be available through us for the trucks.

Attached are some pictures.
I may be way off base but u lose the pressure on a turbo through the exhaust and you lose power its the design its best with the pressure always has been yea maybe bigger turbo but then cost becomes a problem unless its just a racing application just my thoughts but like I said maybe I'm wrong. Times with technology have changed but back in the day running a pro stock maverick with the boss 429 stroked 460 crank pushing 900 horse Howard aluminum rods an at the time Nascar tunnel ram 2 dominator carbs i miss real racecars when your ear tuned it not a laptop.