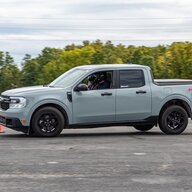 Well-known member
Gold Sponsor
First Name

David
Joined

Sep 17, 2021
Messages
Reaction score

957
Location
Vehicle(s)

2020 F150
Trim

XLT
Morning!
We are hard at work here on the truck. Want to thank everyone for all the orders for our 3" intakes and catch cans. The 3" exhaust came off the truck yesterday to be sent to the bender to have our prototype copied, hopefully just a few weeks we will have exhausts to ship.
Yesterday, Brandon one of the techs here, got started taking the truck apart to get the stock intercooler out. What a job! Trying to figure it all out took some time and trying to do the least possible to get it out. Sadly there is no "least" possible way to do it, the front of the truck gets taken apart just about completely. With instructions I'd say it's a 2 hour job, which we will supply when we ship our kits.
The radiator, trans cooler, a/c condensor and intercooler are all mounted on one big piece of plastic which has to come out, it leaves everything just hanging there. The only cool part of all of this is the intercooler pipes/connections, they are like a cheap Wiggins clamp, nice design actually. Those pieces we will need to CNC so the stock pipes go onto our new upgraded intercooler.
The factory intercooler is tiny, extremely light weight, which makes for a terrible heat sink. One of the largest hurdles so far on tuning the truck is heat and torque limits. The heat is a big one and doing a 1-2-3-4 pull with the truck the increase in intake air temps are ridiculously high, starting at 99F they climb to 151F, that is not acceptable and the truck cuts power because of that. Imagine towing a load and keeping the truck in any boost how high they get and how much power the truck will be robbed of.
The core is also restrictive, adding a larger better core will free up boost and drop those AIT's down to hopefully close to ambient.
Just to show the progress, here are some pictures of the truck coming apart, the intercooler plumbing connections and the stock intercooler. Today we will be putting the truck back together, minus the factory intercooler, to get measurements on what we can squeeze in there. We will put the absolute largest intercooler in we can fit and that will require some cutting of the plastic shrouding. The only hold up on releasing the intercooler kits will be the CNC work for the inlet/outlets and I'm hoping we can get our work pushed to the front.
**Last picture was added after more measuring, this shows what will need to be cut/trimmed to get an intercooler in that will actually work and perform.
Enjoy.
Last edited: