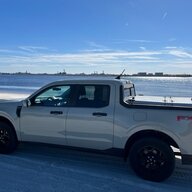 Well-known member
First Name

Joseph
Joined

Jun 8, 2021
Threads
Messages
Reaction score

382
Location
Vehicle(s)

Maverick XLT
Engine

2.0L EcoBoost
I have a 2022 2.0 XLT Luxury AWD/4k/FX4 in Cactus grey. I just hit 25k miles at the end of 2022 in just a few weeks past a year of ownership. I've posted a couple of previous reviews and this one may repeat some of those!
I've taken many trips short and long and each time it was great. My best gas mileage was about 31 mpg and my worst was 22. My fuel economy gauge on the dash is pretty much about 2 mpg higher than actual, kindof a a PITA, but I've given up there.
I've used it to haul many things, including moving my daughter in Miami, as well as moving out of my house into storage, then a few months later out of storage into my apartment. Everything went well, but I really do wish it had a 5 ft bed. I know I can put the gate up half way and other tricks, but there's something about hauling a 5 foot bed frame and being able to shut the gate without tying thigs down or worry about them getting wet or stolen.
I've moved both of my kayaks several times, my short one is 10 ft and I can just fit it in ok, the 12 footer sticks out quite a bit, but the hitch extender works great.
I've made a couple of trips to the beach and used the sand mode, I should have read up on it better, but it turns off traction control and locks it into a lower gear, which is fine when you're only going 10. I never thought I would get stuck or was worried. Some parts were deeper soft sand and some was slightly packed.
I never did get to test the towing, other than moving my tear drop around the yard, and then I sold it and haven't bought another, I hope to get it replaced soon.
The Diamondback cover works great. I think my bed is more secure than the cabin an I don't have any issues with it getting wet. It's pretty easy to operate to just open and load stuff in. I've loaded it up, I can move a queen mattress just on top easily and my grand daughter likes to climb on top when we are visiting some locations. My only complaint is that there is the occasional time I want to load something bigger and taller and removing the middle section is not a quick task.
I have the sunroof and the sliding rear window and I'm glad I have both. I do wish that I had the power rear window as that would make the sunroof more enjoyable. If I open the rear window first, the sunroof is nice, but sometimes I forget and I can't reach back there an do it. I wish there was a way to convert.
The seat heaters work great, and recently I was in the cold mountains and saying I wish I had heated mirrors (I live in FL) and didn't realize until later that I actually do. I'll have to try them out later.
I've had two oil changes and both went well. I think I still have a couple of open recalls, or at least I had a notice from ford that said they don't have the parts and would contact me when I can. The only issues I have been having is the radio is a POS. It sometimes freezes, sometimes doesn't work, I've had the volume stop working, etc.... The worst one was this time that the radio would not shut off. Car was off, key was out and car was locked, but the radio was still on, I was late for an appointment and couldn't fool around with it. Fortunately the battery didn't die. While it was at Ford, of course they couldn't diagnose as none of those problems occurred while it was there.
The hard plastics of the interior are easy to scratch and mine are all marked up, fortunately I really don't care. The spray in bed liner has held up well and I'm glad that I have that.
If I was buying it again, I wouldn't hesitate. I probably would jump to the Lariat for the keyless entry, wireless charging power rear window and if they made a hybrid AWD, I would get that in a heartbeat. My sister has the Lariat Hybrid, and I always tell her that I like driving hers better than mine as I find the 2.0EB a little buzy and jumpy.
Let me know if you have any specific questions.