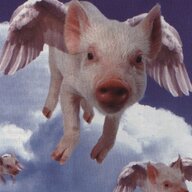 Well-known member
I just got to the part in the vehicle where you mention the bigger battery for Start/Stop - in your experience how often are there hardware/electrical issues with this system? I've heard people say they had to replace the battery or alternator every two years, but this was years ago when they first came out (and not with Ford).

I'm eyeballing that $99 plug-in device to disable A.S.S. (Auto-Start-Stop, who comes up with these acronyms...) but may wait and see.
A brother had am almost brand-new Jeep Gladiator with Start/Stop. It was disabled by the ECM/BCM because the second battery(for S/S only?) was defective.
A Ford tech indicated on YT that if you allow the main battery(on a Ford) to become discharged, then S/S will be disabled on that vehicle until physically reset(dash controls/steering wheel controls/???) after the battery is re-charged or replaced. The plug-in in that case is not actually necessary, I figure. I do not know if Forscan and a dongle can disable/enable S/S.
tom