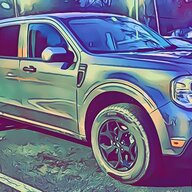 Well-known member
Got and installed my Buschur intake today. So far I'd say the fit and finish are good. Shipping was next day but I'm also pretty close to them. If I could change anything I wish the IAT sensor mounted differently. I'm a little nervous that it could eventually suck the grommet in when it warms up.
Small issue I had with the mounting arm is that the supplied bolt didn't work. The hole it's intended for isn't threaded. I ended up trying to use it to cut its own but that just ended up stripping out the bolt. I used a stainless self tapper.
I can't speak for the performance yet but I don't even care. The turbo noises make it worth every penny.
Sound clips:
.
Last edited by a moderator: