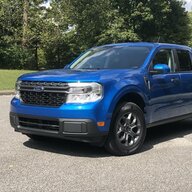 Well-known member
First Name

Wes
Joined

Jul 22, 2021
Threads
Messages
Reaction score

1,526
Location
Vehicle(s)

Ford Maverick
Trim

XLT
Yeah the "hack" cruise control will be enabled through Forscan and will be just as Ford and official as yours.

I would have ordered CP360 regardless of trim so I have power mirrors on my XL model.

I'll give you the wheels from the onset but I will either by an aftermarket set that I like better than the XLT or find a set of XLT for cheap. Then I'll have my steelies for dedicated snow tires. It's perfect actually for me.

Again - different strokes for different folks. I found the best trim and options to customize for my tastes.

Sounds like you did too.

That's one of the great things of the Mav.
Its hack because you are literally hacking the ford system. If you are ever in a bad accident and your insurance thinks it was caused by vehicle modifications that literally required hacking the Ford system... good luck getting a payout, and good luck on them covering your liability on the other persons vehicle and or health costs. Some stuff is not worth it to save a couple grand.
That is not really a different strokes for different folks kinda issue, its people messing with the computer systems in their vehicles in a way Ford never intended. Sure you can do it, its a free country (somewhat), but you are taking on a lot of liability in the process. I have the safety of myself, a wife, a kid and $100Ks in assets I don't feel like potentially risking to save $2k.
We can do anything, as long as we are willing to accept the consequences.