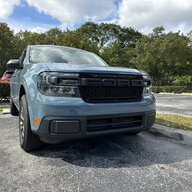 Active member
I Just finish completing the modification I added the Raptor-style front grill blackout headlights led DRL, turn signal, and tail lights, Lasfit led all around, and added a turn signal light to side emblems.
i
I opened the headlight and used zep degreaser to remove the chrome I used the DRL that came with the grill and I cut the headlight insert so they can fit now it works as a DRL and turn signal plus the switch back lasfit . keep in mind the turn signal chrome housing turns white not black when you use ZEP I had to paint it using high-temperature paint.
removing the front bumper and headlights is easy now opening the headlight is very difficult unscrew the 6 Philip screws from the headlight preheat your oven to 350 c place two wood boards on the oven place the headlight on top for 15 minutes with a flat take it out using gloves its very hot use flat screwdriver to separate the housing from the lens and opening the clips, then place the headlight on the oven for another 8 minutes, with a 2inch spatula start opening the headlight you can use a heat gun to keep it hot.
take apart the headlight inserts and dip them in the Zep degreaser and cleaner it takes less than 2 minutes for the chrome to be removed, if you are removing the chrome from the signal housing remember it will turn white, not black. do not apply zep to the reflector's high and low lights.
clean the old glue from the lens and housing and apply new glue to the housing groove if no other modification is needed it. just put it back together you will have a BAP headlight.
on mine, I use a dremer and a diamond wheel to cut the shape of the Led light bar that came with the raptor grill in the top part of the headlight insert. that insert has two points that hold it together with the rest of the insert. it's best to separate it so you can cut it more easily. After that just put together the inserts with epoxy and glue the Led bar to the insert
you need to cut this part on the turn signal housing if not will be in the way of the new LED bar
and you need to cut this part that initially you would insert the screw to hold it in the grill this also gets in the way and hits the insert
then just put it back together and seal it
on the side emblems you need to make a little hole to the side to put the cables tap the cables to the turn signal and that's it
on the headlight tap the turn signal the yellow wire from the LED bar, and the red wire to the fuse box I used fuse #33 which is for the heated steering wheel ( mine does not use this fuse I don't have a heated steering wheel ) it gets power when you turn the car for the DRL. and the black cable to ground
and that's it I will put the links to all the materials I used. sorry i did not take more pics or video