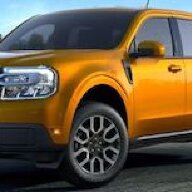 Well-known member
I wanted cyber orange but the goddess put the kibosh on that idea. She chose cactus grey. I'm good with it.
Yup... If Momma ain't happy, ain't nobody happy... Lucky for me my wife said "Hey, it's your truck, so get the color you want!" (Helps that there's no "sage green" available - likely her first choice - and that she likes the Cyber Orange pretty well - her 2nd choice.)
My daughter just ordered her dream car - a 2023 Dodge Challenger is "Go Mango" which is a slightly darker orange, more towards the red-orange spectrum. They will look good together when she comes over for dinner!
(I will say, however, that we have about 99.9% confidence she will actually get her Challenger. I'm nowhere near that confidence level about my Maverick...)