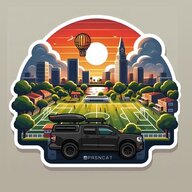 Well-known member
Joined

Apr 10, 2022
Threads
Messages
Reaction score

411
Location
Vehicle(s)

2023 Ford Maverick XLT EB AWD BAP CP360
Engine

2.0L EcoBoost
Thanks. I'm new here so not really sure how bad the ratio of orders vs capacity has to be for a significant delay.
I created a spreadsheet that translates what Ford indicates are capacities against what the orders could look like (since they don't provide enough detail in the sheet that gets posted). My rough estimates show that the XL Hybrid is the only true combination that is nearing capacity.
If 37% of the USOB are XL; assuming the ratio of Hybrid to EB is the same for all models (a risky assumption), 68% of the XLs are Hybrid orders. A little over 25% of the USOB is XL Hybrid based on this assumption. Thus, my rough estimate is that there are approximately 12K XL Hybrids on order.
If use this same approach to Ford's capacity, 23% of MY24 production will be XL and 55% of MY24 production will be Hybrid. As a result, approximately 12.7% of the MY24 production capacity is for XL Hybrids.
If Ford is going to produce approximately 100K Mavericks during the 24 MY (average monthly production for the last 12 months is 8,415 or 100,980 over 12 months), the capacity comes out to approximately 12,700.
Thus, the only combination that appears to be approaching capacity is the XL Hybrid. The Hybrid in other models are well below capacity (capacity is 55.5K based on 100K/year and the current USOB is approximately 32.6K).
The point is that people should look for a recommended dealer (see this in the ordering forum) with sufficient allocations to take your Hybrid order since it appears there is still sufficient capacity as long as you order an XLT or Lariat.
Of course, as Tim at Long McArthur (
@fordvideoguy
) has been hammering into us for two years, leave the dealer-installed options and similar accessories (splash guards, tonneau covers, bed extenders, etc.) off your order! Buy these from the aftermarket.
You can and should order the spray-in bedliner if you want it -- I had Line-X install mine after I received my truck. Yet, we ordered the factory SPIBL for my son's 2024 order.
My son's order is among the many new-for-2024 XL Hybrid orders in the USOB. The Hybrid will more than pay for the additional cost due to the high gas prices here in California. Plus, we were counting on it taking a while to be produced and delivered so he could save money and lower the loan amount.
Hope this helped.