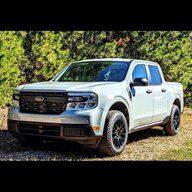 Well-known member
...no one [else] makes a small hybrid truck like the Maverick. No other choice meant the wait time was OK to me...
Same here. I, and anyone else who did their research, knew going in there would be a long to very long wait to get one. I wanted a small-ish (Maverick is not small) truck that would fit in my garage and got half-assed mileage. Also, having a back seat meant I wouldn't need two vehicles. When it was revealed that it was available in a Hybrid drive, I decided to order one, despite the possibly multi-year wait to get one. No other brand has anything close to it currently available.
Anyone who has ordered one and done any research at all should know there is a very long wait, and not gotten all huffy about the slow as hell process.