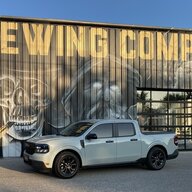 Well-known member
First Name

Chad
Joined

Jul 7, 2022
Threads
Messages
Reaction score

56
Location
Vehicle(s)

2019 F-150 & 1988 Mustang GT
Engine

2.0L EcoBoost
Vehicle Showcase
So my Maverick appears to have minor damage from someone possibly trying to break in. So I ordered the two stickers for the drivers side doors and some touch up paint for the scratches on the inside of the door and door frame. I figured I would post up the pics since I couldn't find anything about removal of the Maverick keypad.
With parts in hand, I lowered the windows, removed the outside window trim bolts (only 1 per door). I removed the keypad by using a wide blade flathead, using a twisting motion near the top of the keypad, I was able to get enough room to use a small flathead to depress the metal spring clip. FYI at the bottom of the keypad are plastic retaining clips. I was able to pull the rubber window track from its slot in the door, just enough to allow for sticker removal and install of the new stickers. I didn't require any heat to remove the old stickers, but my truck was only a week old. I did one at a time to help with lining up the new sticker, but it would have been cool to see what it looks like with them totally removed. My rubber window track was easy to get back in, cycled the windows up and down a few times, made a few adjustments and good as new. If your window track is being a pain, in the past I've used a wooden paint stir stick to get it back in the door slots.
Part numbers are: NZ6Z 21275A37 BA and NZ6Z 26275A37 AA.
Step 1. I used a wide flat blade screwdriver to get the
top
of the keypad pried out a bit, then I was able to push down on the metal spring clip (#2) with a small flat blade.
The trim is part of the keypad unlike some others that Ford uses, where the trim pops off.
The metal spring clip.
To remove the outer window sill, I just had to take out this bolt. I believe I used either a
7 or 8 mm socket.
On the bottom of the keypad you can see the plastic tabs.
Found it interesting that it is painted under the vinyl stickers.
Last edited: