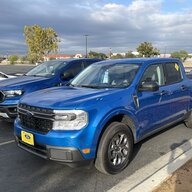 Active member
First Name

Victor
Joined

Nov 9, 2022
Threads
Messages
Reaction score

69
Location
Vehicle(s)

2022 Maverick XLT Hybrid, 2022 Explorer Limited
Engine

2.5L Hybrid
Hi fellow Maverick owners and soon to be owners! I documented a video of the replacement of my 2022 Maverick driver side rear view mirror. I recorded it since I could not find any videos of this procedure on the Maverick. The 14 minute video is at the following link on you tube:
I purchased a painted to match mirror (Velocity Blue), even though my original mirrors are just plain plastic. I will paint to match the right side mirror once I purchase a quality can of E7 paint code aerosol. I noted upon inspection of the electrical connectors that the replacement mirror has two more pins than the original one on my Maverick. However, after I connected everything, the power mirror controls worked... most importantly, the "warning lights" for the blind spot and safety perimeter sensors went away. After a brief test drive the little BLISS icons were lighting up anytime a vehicle approached me from my blind side. Everything works perfect as intended.
You may be wondering why I'm replacing the mirror; well I was stopped at a red light with my baby in his car seat in the back, suddenly a piece of shit driver decided to run the red light and came flying from behind me smacking my mirror and ripping it off. Since I was with my newborn baby in the truck, I decided that it was not worth it to give chase to this ducking idiot. I called police and filled a hit and run report. Damages were lower than my deductible so hence I'm doing my own work. I do hope that driver gets hit by a train.
Disclaimer, I'm not a you tuber or social media creator, so the quality of my video and editing may not be to the standards you would expect of those channels; I used one hand to hold my phone and the other to hold/work with my tools. Speaking of tools, you will need a 1/4" ratchet, 4 inch extension, 10 millimeter socket, and a couple of interior trim prying tools made of plastic. It will also help if you have a small rag to stick in the panel opening seen once you remove the sail panel, this will prevent you from dropping any sockets or nuts into your door panel, never to be seen again! You will see what I mean. Now I know what happens to all those 10MM sockets LOL...
Thanks and please post you respectful critical comments if you desire. Semper Fi!