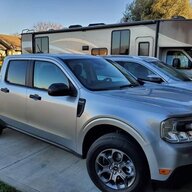 Well-known member
Go to "Build & Price" your Maverick on the Ford site, then built an XL 2.0, change nothing just scroll to the bottom of the page and select view inventory. Now on the next page deselect XL and color. You can now set the distance you are willing drive, max 100 miles. Yes you will see both in stock and ordered, so scroll through. Last step call the dealer to verify. Okay, lots of dealers in So Cal, but most should find one, or at least an expected arrival date at the dealer.
Updated with info on searching larger than 100 mile radius (posted by
@mdwmd
)
More Info:
You can search a wider radius than 100 miles by modifying the
Radius
parameter in the URL. For example,
https://shop.ford.com/inventory/maverick/results?zipcode=33618&Radius=200&Order=Distance
Further, a script could be written (not by me) to notify you when something matching your search is found.
The following API call returns XLT and Lariat Hybrids within 200 miles of Albany, NY as
data.filterResults.ExactMatch.vehicles
(spoiler, there are none)
and similar models as (though i'm not sure how it's defined on their end)
data.filterResults.SimilarMatch.vehicles
https://shop.ford.com/aemservices/cache/inventory/dealer-lot?dealerSlug=rwlg9BxmJfrvfcVFrTAycjI+MdMGLkzGWynH7lxZGZqEpFRPcSsQ0VSTRpAXkjLL&make=Ford&market=US&Engine=2_5l_hybrid&Order=Distance&Radius=200&inventoryType=Radius&model=maverick&modeltrim=Maverick_F26-XLT;Maverick_F26-LARIAT&segment=Truck&year=2022&zipcode=12222
Last edited: