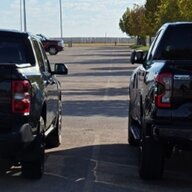 Well-known member
I bought the Ford Bed Divider as a treat, instead of using my old method of just using 2 x 4s, etc. But it is a little bit irritating to adjust the placement.
I learned from someone here that the Bed Divider's adjustment pins can be locked open by twisting them a few degrees after pulling them to the center. However, you can only move the divider forward or reverse a couple of inches at a time. So to move the divider a foot forward required me to go from side to side and make about 6 passes. At 74, I don't do a lot of jumping into the bed to move it like I would at 25.
Anyway, 1 saw the slots in the top of the aluminum and decided to add a bolt on each side that could be pushed/pulled from the center of the truck, standing on the floor. For the first pass, I just used a 1x2 that I had laying around, but I'll probably just use a rod with an eyebolt in the end of it to go over the bolts. My bolts are about 5/8" in diameter. You still only get about a small adjustment at a time, but I saves me a lot of walking back and forth.