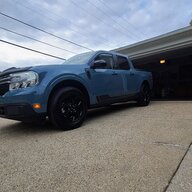 Well-known member
UPDATE:
Well I am please to say this worked for what I was trying to do . Going into this there was no guarantee this was going to work. 1st I am no engineer I'm a communications tech. By trade. But that always leaves me with curiosity of fixing things and learning.
So the main reason I did this was for the hood shake , I have the aero skin textured model. With that said I experienced shake in a test drive on a different maverick . So I have no clue if this is isolated to this hood deflector.
Upon doing this I have a friend whom is a engineer on the Toyota tundra for 20 plus years now. He pointed out alot of engineer type things to me....blah blah lol.
So I decide to go ahead with this project cost was 50 bucks only used 10 sheets or so. I could have done cheaper but bought a big box with plans to do doors for speakers etc. later.
So after couple drives yesterday and today at my work route tested at speeds above 75 to 85 mph. The flutter / shake is gone with very very minimal now there if at all. So this worked for me . I had already reported to ford on this and they have called me back and forth to look at and check the issue ( this was not me pushing this with the dealer they called me after I reported to investigate). This may work for others it may not .
I have gotten lots of slack from people in this and other forums I have posted on about heat issues how I'm messing with engineering etc. If you have to be negative just don't post . Go attack some one for a lift etc they are doing to their truck or any other mod. This is my truck I pay the payment and realize what I was doing . Thanks and hope the info helps. I also seen some noises are not apparent any more but I had no issues with that prior to this.
Well bought some 100 mil Kilmat sound insulation for under the hood. Also bought a roller and also used a vinyl wrap tool to help smooth out. Definitely added some weight to the hood maybe that will stop some of the hood flutter , who knows . It seemed a little quieter not sure snowing so didn't go on a test run. But I really did it to see if it helps with some of the hood flutter. Took 10 sheets and about a hour to do.
Last edited: