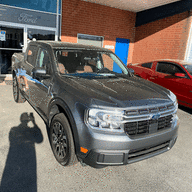 Active member
Joined

Mar 14, 2022
Threads
Messages
Reaction score

23
Location
Vehicle(s)

2022 Ford Maverick
Trim

Lariat
I've had my Lariat w/Lux since Friday. The seamless transition from ice to electric and back is super smooth. It's much like our 2013 Prius C.

I have a little over 200 miles on it and have 3/4 of a tank left.

I like watching the EV coach. Speed up moderately to the desired speed then let off the gas then a light throttle and be in electric mode. Let off the pedal and it starts to charge the battery.

The only thing I wish it had was a picture of the battery like the Prius C so you can and see the state of charge by the led lines.

I tried Sport mode today for the first time because I forgot it had it, lol. It gives it a little more pep.

Love the auto high beam head lights. In dark area high beams come on. When it detects a lighted area or on coming traffic lowers back to low beams. Pretty cool.

Today when driving I called my son thru blu tooth and it automatically lowered the radio and put the a/c fan speed to a lower setting. Wasn't expecting that.

Over really impressed and so happy with it. The wait was totally worth it.
Very sharp truck! Mine is almost this exact build and is due any day now. Enjoy the truck!