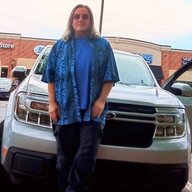 Well-known member
First Name

Michael
Joined

Jun 22, 2021
Threads
Messages
Reaction score

599
Location
Vehicle(s)

2021 BMW X1, 2018 Toyota Rav4, 2022 Ford Maverick
Trim

Lariat
Vehicle Showcase
I picked up my Maverick one day shy of a week ago and thought I would offer a brief review. I owned a 2009 Ford Escape Hybrid in the past that I had ordered direct from Ford so have previous hybrid experience. Of course the wait this time was excruciating compared the 2009 when I had the order within 120 days. I think the Maverick has as similar style to that 2009 Escape Hybrid, but the Maverick's upgraded technology really gives this vehicle a unique feel when driving.
The Maverick Hybrid is a fun truck to drive…responsive yet smooth and just the right size for zipping around town. I have the Lariat Luxury trim so enjoy the decent sound system (a must for me). Fit and finish was fresh and clean – the bed features and tonneau are great and a breeze to use. I even had the chance to enjoy the sun roof and back window for a nice breeze while parked for a bit. The compact size has been a plus for me as it makes it easier to pull in and out of my garage compared to my previous ride.
I think one of the most remarkable aspects of the Ford Maverick Hybrid is the new eCVT. My old hybrid didn't have the eCVT, so this was my first experience. It works great - but definitely changes the acceleration paradigm in my opinion. You expect an engine to rev to a crescendo then shift into the next gear, but that never happens…when you look at the speedometer you see you've quickly achieved your intended speed without the rise and fall rev sound of traditional shifting. I think it's really cool…especially when you're cruising in electric mode – smooth.
I really like the seats as they feel like they were designed for me specifically - I just fit perfect. Push button Start is good and the Touch Entry is my new baseline. I like the traditional, boxy truck styling/hood and appreciate the full horn…I don't like those 'meep-meep' horns that some small vehicles have. I did quick tests of the ACC with lane keeping – all really cool. I like the way it keeps distance automatically though I'm still learning to trust. The lane keeping I think is best for highways as it doesn't deal well with traffic circles or windy roads (performs best with well marked highway lines). I often use my cruise to deal with <35MPH speed limits as I have a tendency to accelerate and the Maverick cruise didn't let me down..
And of course the mileage is phenomenal. On a recent trip to the store I noticed the trip meter indicated 47.9 MPG. According to My Maverick, I've traveled 196 miles and can go another 373 miles before fueling (569 miles/tank). I still have ¾ of the initial tank of gas. I'm happy the hybrid technology has improved since I owned my FEH in 2009, and even happier that I can do "truck stuff" with my Maverick.
One week in and I'm a happy Maverick owner.