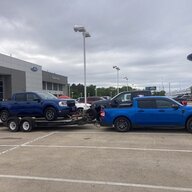 Well-known member
What have you managed to cram into the bed, or tow that surprised you?
Does it fit?
truck box - check
32' ladders - check
10' Kayak + 4 dozen decoys and two truck boxes - check
4'x8' sheets of plywood- check
12' Rolls of carpet - check
Bike + weekend camping gear - check
Dozen bales of hay - check
Welding machine - check
10 rolls of underlayment and a pre-hung door and half a dozen 8' pieces of trim - check
100# sandblast pot with hoses & hood - check
What have you fit in your bed?
Will it tow?
Ford Focus - check
Hyundai Elantra - check
30 ton crane block - check
45 ton crane gear box - check
8" pipe, fittings, and gate valves- check
PawPaw's motorcycle - check
Vintage camper - check
18' utility trailer load for the dump - check
Pallet of vinyl flooring - check
Van stuck in ditch - check
3000 lbs of sand in an enclosed trailer - check
Another Maverick - technically overweight, but worked for 4 miles home from the dealer...
What have y'all towed?
In 24,000 miles I finally need to move something over 4,000lbs so I'm calling in a favor to tow my 6,500lb tractor.
In that time I've saved about $3,200 in gas over the cost of an F150, plus about $1,600 less in insurance, and the truck costs about $14,00 less than an F150.
How much do y'all think you're saving?