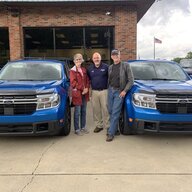 Well-known member
I've already heard from MRT and appreciate them reaching out to help.
I want to make it clear I don't believe the struts had anything to do with my current issue. I think it is potential misalignment. That's what I want to make everyone aware of. Misalignment and little to no margin by Ford. There is apparently no way to access the latch from the outside without removing the grill and you can't remove the grill without having the hood open.
I guess I may to call my dealer and see what their mechanic has to say.