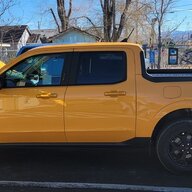 Well-known member
First Name

Jeremy Page
Joined

Oct 18, 2021
Messages
Reaction score

208
Location
Vehicle(s)

2011 F150, 1973 Maverick, 2012 Tundra, 2020 F250
Trim

Lariat
A downpipe is typically a great increase in power but only if there is no restriction after it. Most modern exhaust flow really well. The change of the catback on this truck proved it was restrictive as it instantly shut the throttle down. Eliminating the second cat did that even further. The "downpipe" on this truck is a very short 90 degree bend with the primary cat in it and two 02 sensors, one before and one after. The aftermarket world is under a magnifying glass and emissions right now. Removing the cat on any car that came equipped with one is illegal in all 50 states. So a downpipe on this truck requires removing the factory cat.

The tune, we have been on the dyno every day for two weeks. I want the tune perfect and won't release it until it is. Right now the tune is being done for 93 and we've ran into some additional issues, the truck is actually warming up as I type this for more work today on the dyno. As soon as the 93 is done we will move onto 87 octane and a tow tune. The tune will take care of ALL of this without swapping maps. You'll simply load the tune in and drive the truck, whichever gas you are running the tune will self adjust for just like factory.
Remember they don't sell 93 oct on the west coast, so we need a 91 specific tune.