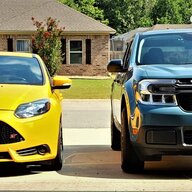 Well-known member
This is the question I'd like to ask everyone who tints their front windows and windshield. Does this make the truck a daytime only vehicle?

I'm thinking of a Velocity Blue lettered top-of-windshield strip with a dark background, but nothing beyond that 4 to 6 inch glass modification.
I mean it depends on how dark you go I guess. I have my front side windows tinted to match the rears and I can see out at night just fine. Never had a tinted front window but a lot of people around my area do it, some so dark you can't see in the front at all. I don't know how well night driving works with that but I know when I had limo tint on my Mustang I had to roll down my windows to see out the side at night.