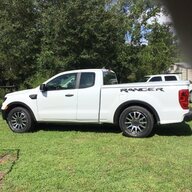 First Name

Doc
Joined

Nov 16, 2020
Messages
Reaction score

92
Location
Vehicle(s)

2019 Ranger, 2020 HPP mustang
If I wanted to spend $38k, hell, I could actually go right past the Ranger and build an F150 exactly how I wanted. Ive toyed with that idea MANY times too. Regular cab, V8, 4wd and the FX4 package. Basically perfection right there. I just cannot see the value proposition on spending that much on a vehicle purchase though. Its completely absurd how pricey cars have gotten.

For the Maverick Ill probably go as low model as I can go just to avoid those silly "nanny" electronic systems that are difficult to disable(and ill still have to figure out how to disable the start-stop and A/C, I already know that). For me the best thing that could ever happen is to wait and see what they're planning for a fleet model. I can only assume at the price point(and honestly the low capability point itll be) the Maverick will be a goldmine for fleet usage. Im SUPER excited to what kind of stuff the aftermarket makes for goodies to make it into a good usable hauler for materials and equipment. My first priority would be some sort a roof rack/ladder rack combo to use for longer items like lumber/ladders/recreational equipment on top of it. Also I hope they do something like the Tacoma does and do a rear seat delete option to save me the time of throwing that stuff out. Build a nice beefy storage box in the rear for tools and whatnot.

As far as the size thing too, isnt a new ranger only like 210" long? Its only like 6" longer than the old Ranger. I dont foresee the Maverick being too noticeably smaller than that. Maybe a foot at BEST. I mean even the old single cab Ranger was 189" long. Do people honestly think its going to be in that size range? What I DO see is the Maverick being a lot less capable in every respect than the Ranger platform. Ive said it many times, a lot of people are aiming for the moon with the Maverick and i think a lot of people are going to be disappointed in relation to the supposed price point they're aiming for.

------

Also to keep it back on topic of these different subframes I find it very odd they would develop two different rear suspension designs for such a cheap little budget truck like this. I wonder if the torsion beam was just a thrown together thing for testing and the more normal wishbone is a newer design closer to what the Maverick will actually get (on all the models). I just cant fathom how its more cost effective to offer two entirely different subframe and suspension setups on the same model of vehicle like this. My only counterargument to this is MAYBE they plan this thing to be a huge fleet seller and across a bunch of those a seperate FWD setup with a torsion beam setup would make sense. Otherwise I dont really see the FWD models being a big enough seller to even warrant the need of two different rear setups.

Edit: Or wait.... Does the FWD Escape and what not use this same torsion beam setup already? I hadnt thought of that really.
I just want a cheap front wheel drive truck so my wife can take the empty beer cans to the crusher ...