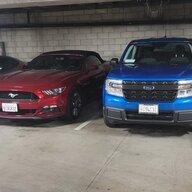 Well-known member
Interesting, but predicting the future is fraught with peril.
Indeed.
If you told me four years ago when I got my Mustang that it would be worth more now than I paid for it, I would have laughed at you.
Well, guess what?
I paid $31K for it and it's worth anywhere from $32 to $36K. And that's after I drove it for four years.
Of course, I'm keeping the car since it's almost completely paid off but still.