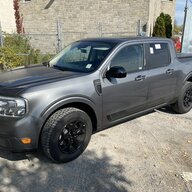 Active member
Hey All, just thought I would post some pictures of our new Maverick. It is our first truck and my first Ford. It is loaded without the FX4 package and was our local dealer's first order and it arrived yesterday. Paid below MRSP, as after I had it for today it will return to the lot to show off for 2 weeks. They gave it to me for the afternoon and I took it for a long drive and took some pictures to share. It has not been detailed at all, and has all the Mexico and USA dirt on it from the train ride north. Our dealership will detail it before our final pickup. I'll post some clean pictures when we pick it up!
Short story – I love it. Looks great and it is fast & quiet. If I could have ordered dark grey or black interior I would have, but all in all, I like the brown and dark blue (it changes colour depending on the outside light). It came with a folding and not rolling soft tonneau cover and I like it too.
I tried to take pictures from different angles that I had not seen on the forum so far. The dealer is 2 mins from my house, so it you have any questions I can pop down and have a look.
There has been a lot of negative comments on the forum about dealerships…I have to say, my experience with my local dealer has been spectacular. The salesman was great and I would recommend anyone in Ontario to him and the dealership.