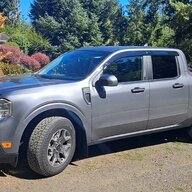 Well-known member
Two Thousand Miles in
After a month of ownership and a few thousand miles of travel, I have gotten to know my new Maverick a little better and its pros and cons. This is my first new Ford and only the second ever in my family (and that was a brief engagement). I share this only to note I had no brand loyalty or significant history with it.
I have a Lariat with the FX4 package, Tow package and Pirelli Scorpion ATR tires.
During the month the I have been able to put the Maverick through its paces. It's driven on country roads, Interstate and gravel/dirt in both dry and extremely wet conditions. I've been able to legitimately use the different drive modes (except towing) and the various drive aids that came with the model and trim I have. I have done few DIY projects in the bed. I have sat in it on Zoom calls. I reclined the seat and attempted to nap waiting for one of my kids to get out of school. It's carried a bed full of alfalfa and feed and a back seat full of groceries. It's experienced real-life use.
The Gripes/misfires
The gripes are minimal. To steal a line from Neil Young, "Just because your problems are meaningless doesn't make them go away." Given the price point Ford was laudably trying to maintain, I get that choices had to me made.
The various cubbies and storage hitches are great. Couldn't one be for a phone with a charge/Car Play cable attached? How about a secure spot for the key fob, maybe even one that recharges the fob battery?
Initially I was impressed with the automatic hi/lo beam headlights. I thought they were slick. While they work very, very well, on undulating roads or going through town they tend to flick back and forth strobe-light style and will flash cars from behind. It's easy to address of course. It was one of those things I loved at first but I have turned it off likely never to be used again.
The fuse box in the engine bay. Good grief. It's designed like an escape room, you have to find clues to get it open. Cheap clips and an over engineered design make getting to the fuses unnecessarily complicated. And no fuse map on the lid as has been common in vehicles forever. C'mon man!
The lever used to hold up the hood is right out of a 1973 Datsun. I chuckled "That helped with the price point" when I first used it. Unimportant I realize as it does the job.
Engine sound going from 0-15…is…whiny.
Location of some controls. Overall the switchgear in the Maverick is wonderfully basic and easy to use. One set of controls on the center console between the Drive selector (which I like) and a set of storage bins is in an unfortunate location. Given the landscape of the dash it would seem this set of controls could have been incorporated there instead of an area where you are apt to inadvertently hit one and where dirt and dust are going to collect.
Some of the wiring running from the bed to the engine bay seems dangerously exposed to the elements. Simple clips hold most of it in place and some connections seem to be at risk from road grime exposure and build up.
I connected Ford Pass when I bought the vehicle. I played around a bit, locked and unlocked the car, started it remotely etc. I have never opened the App again. We'll see if it adds value over time.
The Positives-
It drives so very well. Quiet, composed in all situations. Plenty of power. Driven very conservatively, you can eek out 30 Mpg. No Buzzing, whistles or unusual cabin noise. Entry and exit are easy.
The interior is basic but a very nice place to be. I have not understood why car manufactures went away from making utilitarian models. No faux carbon, no chrome, no Walnut. Easy to clean and you are not sweating a scuff. Keeps costs down and fits the needs of most buyers. I do not have heated seats but the cabin gets cozy very quickly on cold mornings.
Electronic interfaces are easy to navigate. Whether on the Touchscreen or the Gauge Cluster the menus and controls are intuitive. This is no small thing and I think they nailed it.
Physical buttons and switches are for the most part simple and exactly where you expect them to be. It is so refreshing to be able to control the climate and sound with simple knobs and buttons and not a touchscreen.
It looks great. The more I am around it, the shape from all angles is active and attractive. Just enough ZOOM to it. It looks confident and comfortable in its own skin.
The headlights are fantastic. The low beams give you a very full view from side to side without blinding oncoming traffic. The best I have ever had.
The bed is useful. Whether my bike, DIY gear and ski rack or Alfalfa it has already proven to be useful and flexible. The rear light gives you enough to see your stuff at night.
The windshield wipers-I live in a place that rains…a lot. Wipers, their controls and speed variance actually matter here in a way most parts of the country may not care about. The simple design and options for delay are perfect for the wild and varied weather we have part of the year.
Auto Stop/Start-in every previous car I have driven with these systems they have felt harried and rough. The Maverick however has little drama. The response is immediate and the system is quiet and feels seamless.
Brake Assist-This is controlled by one of the buttons whose location I question. It turns on a brake "hold" that keeps you from rolling forward when in Drive with your foot off the gas after you come to a complete stop. In stop and go traffic it is such a nice feature.
One oddity. I embedded a video showing an odd but consistent phenomenon. On the hood when driving in the rain water collects in a pool in two locations. It drains away perfectly when standing still, and the pools drain immediately when you stop, turn or accelerate. But if you drive 45-60 MPH 1 inch pools of water will dance in those locations for miles.
I have never bought a car in the first year of its introduction for all the traditional reasons. So far all I can say is that the Maverick is meeting or exceeding my expectations. It feels confident and competent, well-constructed and thoughtfully designed. My only regret is thinking about the minor improvements in the next model that I will not get to enjoy.
.
Last edited by a moderator: