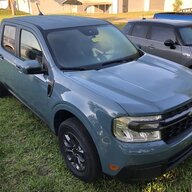 Well-known member
First Name

Tom
Joined

Aug 21, 2022
Threads
Messages
Reaction score

374
Location
Vehicle(s)

2018 Subaru Forester (current toad)
Engine

2.5L Hybrid
Seeing the many complaints concerning the Continental ProContact TX and observing the weird sidewall bulges upon delivery of our Maverick. I was not really comfortable with running that set of tires. I do a lot of traveling over mountain passes and see occasional snow in our travels. Plus, here in Florida we get a lot of rain. I really love the look of all-terrain tires with raise white lettering. But I never felt our front wheel drive hybrid Maverick is really going to do any real off-roading that warranted a set.
Upon delivery of our Maverick, I immediately reached out to the folks at Discount Tire and they really helped me find an exceptionally good set of all-season tires with white lettering in the Continental CrossContact LX25 with EcoPlus Technology for continued low roll resistance to support the hybrid. Love the classic sporty look of white raised lettering on the tires. Much like the Firestone Destination M/T2 on our Gladiator.
Thanks to folks on this forum for recommending speaking to a manager at Discount Tire to get a credit trading in new tires. I had 125 miles on the factory tires at the time of the upgrade.
Comparing the two tires is night and day. The CrossContact LX25 are heavier, have a stout sidewall, thicker tread and rated just under the Michelin Defender 2, without the Michelin price. Shout out to
@Discount Tire
for providing an outstanding out-the-door price that was too good to refuse. They really want my business and treated me as such.
I've put almost 8000 miles on these tires in the last 45 days on our trip to Washington state and back. Well planted and never a hint of losing control in all the weather we passed through. Including the outer bands of Hurricane Idalia on the return trip. Discount Tire just rotated the tires and rebalanced each tire as part of that service included with the purchase.
Very pleased that I did this first thing upon delivery of our Maverick.
Last edited: