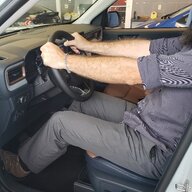 Well-known member
First Name

Jak
Joined

Aug 18, 2021
Messages
Reaction score

508
Location
Vehicle(s)

03 Ranger
Trim

XLT
Went to AutoNation in White Bear Lake, MN today to check out the Maverick Lariat.
Ended up with a lot of time to hang around the car while the trainers were having meetings.
Credit to Kylie, the AutoNation Sales Professional who answered dozens of my questions and told me about today. Also a big thank you to Steve the Ford Trainer who let me climb in and take tons of photos.
All of these measurements are approximate as I didn't want to contact the car with the tape measure.
I'll break them up into categories.
Exterior Cactus Gray
I'm 6'6" tall for comparison
Attempted to color balance the photo
Grill
Lariat Wheels
Roof Structure. Odd flat part halfway
Rear Window with Hard Trifold
Tailgage
Height of Tailgate
Ground Clearance
Sits about 8" above ground with frame at 9.5"
Grill active louvers / shutters closeup
Bed is just at 48" above ground
Fenders sit at about 34"
Front door is 41" long
Rear Doors are about 35" long
Front Door to Bumper is ~54"
Rear window is about 7"x11"
Ground to bottom of door is about 14" height
Some folks have been asking for headlight photos, this is the Lariat headlight
Hitch Closeup Detail
Rear wheel well
Driver Handle
Antenna makes Maverick height about 73" tall
The fin puts it at 68" ish
Roof height alone is 66" tall
Bumper is about 22.5" ish off the ground
Tip to tail length is 198" including the hitch
Width without mirrors is about 72" wide
With mirrors is 81" ish?
Hood height sits about 40" off the ground
Top of bumper height is 25" ish
Bottom of bumper from ground is 12" but swoops under to about 9" ground clearance
Last edited: