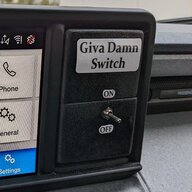 Well-known member
Yesterday I got a rock chip in my windshield... arrgg!! Oh well, I had an appointment to get front windows tinted this morning at Tint World and thought I would see about get the chip fixed... They no longer have a "chip guy" .. must be a special skill. The guy who did my windows did a good job.. They are just a wee bit darker, which is what I wanted. Cost me $100. He commented that he had been tinting windows for a long time and was pretty much over getting excited about exotic and expensive cars. He said he liked how solid the Maverick felt and said that the one thing that stood out with him was how comfortable the seats were. He said he has sat in a lot of cars and the Maverick seat was, by far, one of the most comfortable.

I tried to find a place to get the chip fixed. I applied on my phone to have SafeLite do the work.. even enter insurance info and them the site said there was a error and someone would call me within 12 hours.. 12 hours??? Then I noticed my insurance showed a claim number for my window damage. I called SafeLite... they didn't show me in their system. I called my insurance company... they said a claim was generated but it did not have a company attached to it. They could set me up with SafeLite but earliest would be 2 weeks out. They said I could find someone on my own and call them with the information and they would bill whomever I chose. I called around and a couple of folks could do something in a few days but not today. Then someone suggested a guy that is within a couple of miles of me... He had me come over and fixed the chip in about 15 minutes.

Ultimately, I see a lot of SafeLite commercials but don't think I would be inclined to try them again. Their system lost my information and they were 2 weeks out to get the chip replaced where other places were, at most, a couple of days. If I hadn't tried to reach back out to them I probably would have wasted a day with no results.