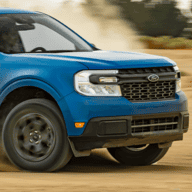 Administrator
Staff member
We just caught a Ford Maverick prototype testing with an interesting combination of leftover camouflage that gives some new insight on how Ford tried to disguise the Maverick's pickup truck roots during its development.
The prototype is completely undisguised, except for a faux roof/bed cap section suspended over the truck bed. It's the first time we've seen the structure that was employed underneath the vinyl camouflage, and how Ford achieved the impression of a three-row SUV on initial Maverick prototypes.
Given that the Maverick lacks traditional "stake holes" on the tops of its bed rails, we have to assume that the fake roof supports are screwed into the inner sides of the truck bed, using the four threaded holes that Ford has provided for cargo management. Beyond the curiosity factor, it also gives us a taste of what a potential suspended rack might look like as an aftermarket accessory to add more cargo capability above the Maverick's Flexbed.