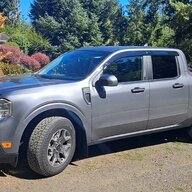 Well-known member
My daughter and I spent the weekend camping and biking. I had the chance to try this set up. Put the old Yakima Space Cadet on my DIY rear rack.
We kept all gear outside the cab in the box or in larger waterproof duffels in the bed. Next step will be to copy some of the DIY tonneau ideas to completely secure the bed.
Yes, it blocks the rearview mirror. The side mirrors provide plenty of visibility. Keeping the box at/below the cab keeps the MPGs where they should be.
It is a fun, functional set up. Access to gear was easy. More to come!
Last edited by a moderator: