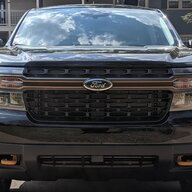 Well-known member
First Name

Ray
Joined

Sep 29, 2022
Threads
Messages
Reaction score

82
Location
Vehicle(s)

2023 Maverick Tremor
Engine

2.0L EcoBoost
Packaging: When the module arrives and you open the box, it's a nice, neat little presentation, with a list of straight forward instructions, the module itself snug in place, and a box containing the wiring harness. Kinda like opening up the box to one of them new iphones.
They also include a grip of zip ties for tidying everything up after install, just in case you don't already have ties laying around. I did but always nice to have more. I honestly ended up only using two. My shipment also included a shirt and keytag so that was a cool little bonus as well.
Install: If you're not familiar with working on cars/trucks, don't sweat it too much. The install itself is actually pretty easy. Simply disconnect the battery, identify the MAP sensors referenced in the instructions, disconnect each sensor, plug in the corresponding ends of the harness where directed, mount the module in a suitable location (I used a couple Command strips), plug in the harness, tidy your wiring with zip ties, and reconnect the battery. *Just make sure before you set everything in place that you give your wiring sufficient slack*
Then all you do is download the app they tell you, enter the product serial number into it, and sync the module with your phone via Bluetooth. Once synced, you can fine tune the performance levels you desire (1-7) for Eco, Sport, and Race modes. Select your mode, turn the truck on, and you're off.
Frankly the only annoying part was accessing the lower sensor. It's a tight squeeze and, if you've got big arms and/or bulky hands, you'll probably be better off either accessing it from beneath the truck or having someone with more slender extremities give it a go.
Driving Impressions: I've been testing the truck for awhile and have gotten a good sense of how it now behaves. Unfortunately, I don't have access to draggy or anything like that at the moment so I'm not gonna be throwing numbers at you. What I will do is give you my honest impression of the changes I've noticed (chiefly at level 7, which 5-7 require 91-93 octane).
To start with, if you're driving economically, babying the gas pedal, or just cruising around town at lower speed, you honestly might forget the module is even there. The overall driving characteristics of the Maverick are unchanged. But the moment you stick your foot in it, taking off from a stop, speeding up to get around someone, or accelerating to merge onto the interstate, there's a very noticeable difference.
There's more grunt, more giddyup than was there before. There's more of you being pushed back in the seat. It's perceptible and it's satisfying. I also think the turbo is a bit more audible now (which makes sense, given what the module is doing).
When I swapped my Tremor's tires to 245/65R17 ATs, I did feel there to be a small but not but totally insignificant impact to my acceleration. That feeling is now far more than gone and I really dig it.
Conclusion: At the end of the day, if you're looking to tune your Ecoboost for every ounce of power it can possibly make, alter driving/transmission characteristics of the truck, etc, this isn't really the direction for you. A dedicated tune (Cobb, Livernois, 5-Star, etc) on top of all your other supporting mods is gonna be the way to go.
*But* if you're looking for something that's incredibly simple, offers your Maverick a satisfying punch of extra power, and won't have you sweating about getting your warranty voided, the Panda Power Module (from
@

[email protected]
) is, imho, one of the *absolute* best bangs for the buck you can get for your Ecoboost Maverick.
Last edited: