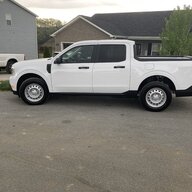 Member
Made my first road trip in my Hybrid. I had 3 adults and my dog, bed half full of luggage. Mostly Interstate, had bad weather, ran A/C pretty much the whole way. Averaged around 65MPH and 36.7 MPG. Outside temperature ranged from 65 to 95 degrees. Elevation changed from around 3000 feet to 43 feet.
The ride was good, no issues with the Maverick to speak of. I do miss not getting cruise control, but I don't plan making many long trips in this little truck.
I did notice that the A/C will freeze you out when you are on gas for a long time, and when you are climbing long steep inclines it acts like it downshifted to maintain the highway speed. All in all it was a good trip.