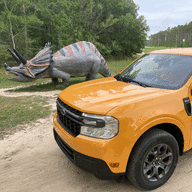 Well-known member
First Name

Michael
Joined

Jun 23, 2021
Threads
Messages
Reaction score

603
Location
Website
Vehicle(s)

Maverick
Engine

2.5L Hybrid
I picked up my Cyber Orange Hybrid Maverick XLT from Moyer Ford Sales in Foley, Alabama on Saturday morning (Feb. 12). First, my glowing review of the dealer, followed by first impressions of driving it around town for the day.
I was extremely impressed with the paperwork process and the dealer experience there. They never charged an ADM nor a deposit when I ordered back on June 29. After it arrived, we worked out the preliminary paperwork and financing over the phone. The Maverick was purchased for the nonprofit I founded 9 years ago so we had to work through a couple of corporate hiccups since it was reserved under my own name. However, in the end, got the truck for 36 months at 0.9% interest despite the nonprofit never having applied for credit anywhere before. All this was being handled while the spray-in bedliner was being done offsite at a third-party place for the original $495 price from Ford.
Saturday morning the truck was sparkling and ready to go. The FITS bonus kit box lying on the rear seat. I checked out the truck then went to sign all the paperwork. We chatted a lot so that took 30 minutes or thereabouts. There was NO upsell on any ridiculous items, just the typical extended warranty, service plan, and paintless dent repair/tire repair/glass repair protection. (I went ahead and purchased the last item, and may get the others later from the dealer since they've been so great.) I had the X-Plan and the dealer took that with no problem. Saved more than expected there as they wiped out the ENTIRE documentation fee (which at their dealership is only $275 anyway.) The one thing I don't think anyone has mentioned about the X-Plan so far is that you have to sign a document agreeing not to sell the Maverick for six months. No biggie there.
Paperwork in hand, Alaina (their internet sales rep), set my door entry code and helped get the FordPass app activated with the truck. The only glitch in the whole process is that I briefly thought the upper rear seatbacks were not snapping back into place after being lowered. Lesson learned you've got to use some force to get the latch to activate and hold them in place.
From there, I drove home my Maverick. It had less than 10 miles and was showing 30 mpg with a range of 322 when I got in it. By the end of the day cruising around town, I was at 97 miles, getting 40.9 mpg and a range of 392 miles. I found that quite funny that I had increased the range by nearly as many miles as I had driven it. So yes, it will take a while for the computer to figure everything out and start giving actual true numbers.
Interior comfort is nice. Not luxury ride quality, but for $26,007 I certainly can't complain. The Maverick drives and handles very much like a car. The vehicle is much quieter than I expected. The front interior space is more spacious than a Prius. Everything seemed to work just as it should so far. The interior plastic panels are pretty cool actually. The textures are much more interesting to touch than I anticipated.
The engine compartment has a lot more free space under the hood than I expected. A lot more plastic parts than I'd normally like to see in an engine bay, but as long as the engine is dependable, so be it.
The engine and eCVT are smooth as silk and the Maverick has a tight turn radius. The spin knob to select gears will take time to get 100% acclimated to, as well the CP360 features and rear-view camera (all new to me). The rearview mirror can be raised up for those who think it is too low by default.
The legroom for the rear seats is tighter than I thought it would be, but I had both front seats pushed all the way back. Move them forward a few inches, and the legroom becomes acceptable for passengers. The under-seat storage bins are cool to have, but not near as spacious as some might expect.
The fit and finish of the truck overall are very, very good. Yet to find any blemishes anywhere, and I've looked hard a couple of different times.
Lastly, the Cyber Orange paint is wicked cool! It always seems to be a different shade of yellow or orange every time you look at it. The pearl coat and metallic flakes in the paint really make it sparkle too. No chance of ever losing this truck in a parking lot as it stands out among a sea of white, silver, and black vehicles.
I'll be adding the smoke hood deflector and maybe some stainless steel touches here and there (I once owned a DeLorean so have a fondness for brushed stainless steel accessories). The 4.5-foot truck bed with the 10 tie-down points has impressed my bigger-truck friends and colleagues. And everyone ends up liking the Cyber Orange color after a few minutes of staring at it.
While parked the first day, someone did stop and ask to look at it, which I happily obliged. I've also noticed the cars driving through the neighborhood slowing down to gaze at the Maverick.
A friend of mine who has four Ford Lightnings and a Tesla Cybertruck reservEd for his business has even had himself put on the call list at the dealer on the rare chance a hybrid goes unclaimed.
Overall, I am extremely happy with the Maverick and consider it perhaps the last remaining bargain in this over-inflated car market right now. I only wish I had ordered more than one, so I could resell the others for a profit. LOL
tl;dr I had a painless experience with Moyer Ford in Foley, Alabama, and highly recommend them to anyone seeking a new Ford. Plus the Hybrid Maverick XLT appears to be a well-put-together, economical, and fun truck to own.
ADDENDUM:
Yes, that is a dark gray Santa Cruz parked across the aisle from it in the photo taken at Best Buy.
Also, the interior orange trim pieces are a more muted color than they appear in so many photos. Not a super bright obnoxious orange at all.
Lastly, after 1.5 days, the range to empty has finally stopped rising. Based on the current estimate, the range will be around 565 miles for my first tank of gas with the vehicle running at 42.2 mpg. A little bit less than the 2005 Prius it replaces, but still outstanding for its class and price range. I'm happy to lose a few mpg to have such a dazzling-looking vehicle.
#newowner #hybrid #cyberorange #maverick #xlt #review
Last edited: