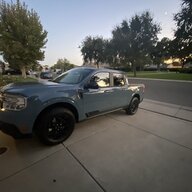 Member
First Name

John
Joined

Oct 11, 2021
Messages
Reaction score

89
Location
Vehicle(s)

2022 Maverick Lariat 2.0EB First Edition
Trim

First Edition
So I guess I got pretty lucky car shopping this weekend and ended up the owner of a 2022 Maverick Lariat 2.0EB Special Edition. Here is the story:
Soooo I've been thinking about getting a truck for a while and was seriously looking at Rangers, but was not tied to anything in particular. I've been looking at CarGurus and Craigslist for deals that might work and I found a 2015 Ram Eco Diesel that was priced way too good to be true, so I decided to take an hour drive from where I live outside Sacrament, and go look at it. It turns out the price was to good to be true and the Ram was garbage, but since I was out looking I might as well look some more. I decided to go to the local Ford dealership and maybe test drive a ranger, but they had none in stock, not even ant used models.
I then called my brother who lived near where I was and asked if he wanted to look at cars with me, we both are car people so of course he joined me. We looked at 3 or 4 lots and saw some stuff but nothing that tickled me enough for a test drive so I decided to drive back home to Sacramento.
I decided to stop at Downtown Ford in Sacramento on my way home as I saw a Ranger listed on their website that, again, had a price that seemed way too good to be true. When I arrived at the lot I see that the price I saw on the internet did not reflect the additional dealer markup, as the other local dealers did. No big deal, I'll just go home, but then the salesperson pounced.
I explained why I stopped in and why I was leaving, and he coldly said "well that's just what everyone was doing," when I corrected him, and said actually no every other dealership either listed the marked up price or stated "contact for price" on their websites, he started yelling at me. I was a little taken aback and just walked away and got in my car, all while he was still yelling.
Driving home I was more than a little upset, see I used to sell cars way back when, and I know that was totally unacceptable behavior, even for a car salesman. Well it just so happens I had to drive by one more Ford dealership on my way home so I stopped in to Future Ford, hoping to cleanse my palette from the nasty experience I just had.
I walked the whole lot to without being assaulted by a salesperson. Saw that they had 3 used Rangers on the lot, so I found a salesperson to ask the prices and maybe take one for a drive.
Nathan proceeded to give me the prices of the Rangers (all more than I wanted to spend) and asked me if I wanted to drive one. I told him that I was really looking forward a 2WD, and ask if there was one that I might have missed. He told me he didn't think so, but there was a Maverick I could look at.
I was surprised as I didn't think many had been delivered and I didn't see one when I walked the lot. Nathan told me they had one that had been special ordered but the individual backed out of the deal. Nathan then walked me back behind the fleet manger's sales trailer and there it was, not even detailed.
I was interested as I had read about the Mavericks when Ford released them for order, as it sounded like the perfect truck for my needs. (Small, efficient, decent towing, affordable)I decided I might was well test drive it, since I was interested them anyway, so away we went. I was impressed with the truck right off, but I was also impressed with Nathan's professionalism, attitude and personality. When we got back from the drive he asked me what I thought. I told him let's see what I can get for my trade, basically I was sold.
Now bare in mind this truck was LOADED and also way above what I was planning on spending, hell I just walked off a lot because the actual price of the truck I was looking at was too high but it was about $6k less then the truck I was about to purchase. That was how impressed I was with the truck and Nathan, and maybe I was also still pissed at the other dealership that I wanted to stick it to them.
Now all during the drive Nathan keep telling me how this truck was special, a first edition, something that was sought after, all of this I chalked up to salesmanship, not realizing that a First Edition was actually a thing.
When the offer for my trade in came back at the number I had told myself I'd do the deal at, I shook hands and started signing papers.
On my drive home in my new truck I called my brother back in Modesto, and I told him the story. He asked me if it was an actual First Edition, and I was like "wait, that's an actual thing?" He then asked if the words special edition was plastered all over the hood. I couldn't tell so when I got home I looked more carefully and saw that it did. Wow, cool, I guess I got something special.
The very next day (Monday)my girlfriend and I drove the truck down to LA, and that's when I truly fell in love with the truck.Nothing like putting 1000 miles on a vehicle in three days to really get a sense of how capable it is. I can't wait to pull my boat, and my GF's pop up trailer to test it's capabilities further. Overall I am very, very happy.
And mark my words, I will take my truck back to the dealership that had the rude salesman for service, as I also bout the service package from Future Ford. I will be sure to remind them that I could have been persuaded to spend my money there, but now they would only get to service my truck for free.