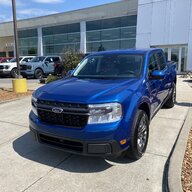 Active member
Two other factors are important for towing. Mountains/hills and wind will impact your towing capabilities. From my reading, one should deduct 10% from the rated tow capacity for hilly country and 20% for mountain country. Therefore 3600 pounds is the max tow rating for hilly areas and 3200 pounds is the max tow rating for the mountain country. With high winds, one must lower their speeds to avoid the swaying.
I'd say your reading gives overly conservative estimates.
Ford has certified the 4K towing per SAE J2807, the vehicle tow testing procedure.
The final test is called the Highway Grade / Davis Dam Test. It requires that the truck be able to tow its maximum trailer weight up a specific 11.4-mile uphill stretch of road in Arizona-3 to 7%, ave 5%. For this test to be run correctly, it must be at least 100 degrees Fahrenheit outside, and the air conditioning must be on its maximum setting using outside air. The truck must maintain a minimum speed of 40 mph (35 mph for a dually), and it can't throw any error codes or burn any fluids during the test.
Braking with the trailer on grades of up to 11% is also included.
Info from
https://www.roadandtrack.com/car-culture/a29339668/how-truck-tow-rating-is-calculated/