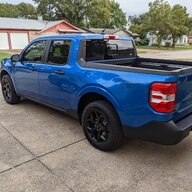 Well-known member
So I just updated my order from a hybrid to the Ecoboost with AWD and FX4. I've only owned rear wheel drive trucks, and never done any off-roading, so I'm curious about what the general capabilities of the FX4 will be. I'm assuming I'm not going to go rock crawling or racing in Baja, but what would it's hypothetical limitations be? Sand, mud, steep mountain roads, once in a generation Texas winter apocalypse? Obviously we don't have them yet but it must have some comparable statistics that'll let us ballpark it.

Additionally does anyone know of a good primer for off-roading, especially with a less capable vehicle like the Maverick? I'd expect most are geared towards the jeeps, lifted midsize trucks and broncos of the world.

Lastly, I'm in Texas, and I've been seeing that Texas has OHV (Off Highway Vehicle) parks run by the parks and wildlife department. Does anyone have experience with those and think they'd be a good place to take a Maverick? Which ones if so?