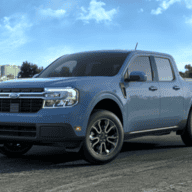 Well-known member
For certain tasks it is. Backing up to a trailer hitch is sketchy. And I knowww that people have backed up trucks for years without one. But what is the point of having guidelines/centerline if it's so bad you have to get out anyway? I also have a super tight garage spot that I have to back into. I suppose I could hang a tennis ball but there is no way I could look over my shoulder and not hit things. And yes, I've already upgraded to LEDs.

I could practically read a book from the backup camera on my 2019 not-so-luxury Subaru Outback it was so clear. And the screen on that was lower resolution than the Maverick!

In 2022, the quality is inexcusable.
I see your point, and these are valid concerns.
I just know there are people out there (on this forum) that are just saying that the quality sucks, just because it sucks and their new iPhone looks better. That's just..... extra. I get it. I want nice things, too, but damn, we're complaining about the quality of an image from the backup camera, just to complain? Sheesh.