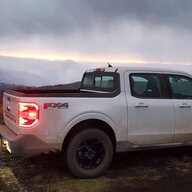 Member
Introduction:
Hello fellow enthusiasts, I'm Mau, and I'm here to share my one-year journey with the 2022 Ford Maverick Lariat FX4. After clocking 10,000 miles, from bustling city streets to the challenging dunes of Huacachina and the high altitudes of the Andes in Peru, this Maverick has seen a lot!
Design & Aesthetics: A Fresh Take on Pickups
Right off the bat, the Maverick's design struck a chord with me. Ford really outdid themselves here. The exterior design is a refreshing departure from its siblings, the Ranger and F-150, with an aesthetic that's more me. Inside, the cabin is a blend of practicality and style, with those copper-brown accents and a bluish-gray palette adding a classy touch. Yes, the plastics are a bit on the softer side, but hey, they've held up well so far!
Engine & Performance: Turbocharged Trailblazer
Now, let's talk heart and muscle. The 2-liter turbocharged engine, packing 250 horsepower, is an absolute gem, especially at 5,000 meters above sea level in the Andes. Whether it's overtaking convoys on steep climbs or maneuvering through city traffic, this engine never feels out of breath.
Handling & Suspension: Jack of All Terrains
Handling? It's like a race car in truck's clothing! Curves are a delight, and the suspension – oh, the suspension! It's a beautiful balance of rugged and refined. The FX4 package adds an extra layer of capability, whether I'm navigating dirt roads or cruising highways.
Modifications: My Maverick, My Way
I couldn't resist some personal touches. Those original Scorpio AT tires? Swapped with Pirelli Scorpion AT+ 245s for an aggressive stance and better grip. Add to that a Rough Country 2-inch lift kit, and now we're talking over 11 inches of ground clearance. This Maverick doesn't just look like a pickup; it's a statement!
Tech & Infotainment: A Mixed Bag
Here's where the Maverick shows its quirks. The infotainment system, with Ford Sync 2.5, isn't the snappiest. It has its moments of freeze and reboot, which can be a bit of a downer. But, thanks to the Motorola MA1 Android Auto wireless connector, connectivity is a breeze. Just hop in, and in 30 seconds, you're connected – no strings attached!
Practicality & Safety: City Slicker with a Wild Side
What I love is how it fits into my urban lifestyle. Parking? No sweat. The Maverick's size is perfect for city escapades. The intelligent all-wheel drive is a marvel, dynamically shifting power for optimal traction and stability, whether I'm tackling city corners or sandy dunes.
Off-Roading: Dune Conqueror
Speaking of dunes, the sand mode in Huacachina's challenging dunes was a revelation. Even with smaller tires, the Maverick climbed every hill, proving its mettle as a surprisingly capable off-roader.
The Maverick's Kryptonite: Missing Manual Shifters
If I had to nitpick, it's the absence of manual shifters. Descending the Andes could have been tricky without them, but the "tow mode" became my unexpected hero, providing the necessary engine braking.
Final Thoughts: A Maverick in True Sense
After a year with the Maverick, it's clear – this isn't just a vehicle; it's a versatile companion. Sure, it has its quirks and could use some tech upgrades, but the overall experience? It's a ride I'd happily take again. Whether you're an urban dweller, an off-road enthusiast, or someone who appreciates a well-rounded machine, the 2022 Ford Maverick Lariat FX4 is a contender worth considering.
Here's to more adventures and miles on this trusty steed!
PS: Excuse the poor drone video...it doesn't do justice to my Mav.