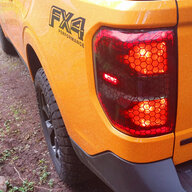 Well-known member
First Name

NAH-RON-EE-TAH
Joined

Jul 7, 2021
Messages
Reaction score

1,230
Location
Vehicle(s)

2022 Ford Maverick Lariat
Trim

Lariat
The Adaptive Cruise Control Panel (ACC) isn't the exact same black color as the grille on the Lariat trim. Pre-Production units and early production units were even lighter gray than mine. See pic below:
This always drove me nuts.
I planned to do something about mine when I received it. However, I always worried if I painted it, it would be too thick and may mess with the sensors. I love my ACC, so I don't want to ruin that experience.
I was relieved that my November 18th build came out with a darker panel than the earlier units as shown above. But still not quite matching. I bought Forever Black exterior black trim restorer fluid from Amazon. It's a thin fluid, so I thought it was the best thing to attempt to not interfere with the ACC radar sensors.
I tried to remove the panel cover first and maybe do this indoors. It appeared like the ACC cover probably snapped on to the grill. I tried to pull it off. It even looked like it kind of clipped in place and I might be able to lift up and pull. However, I was afraid I was going to break it. If it was friction fit, it was going to require more force than I was willing to attempt. So I decided to mask it and apply directly on the installed ACC cover.
I cleaned the panel really well with the cleaner that came with the Forever Black container. Then I started brushing on the Black Reconditioner fluid. The stuff is pretty thin and is applied with a foam applicator that came in the package. Not too difficult to spread out evenly. But can get a little puddly in the seams and crevices. I just kept working through with the foam brush until it looked even.
I am very glad I taped it off and not tried to hand do it.


Here is what it looked like after applying the first coat. Still wet.
The instructions say to let dry 20 minutes. It was super humid, cool and damp when I applied. About 50 ℉ when I applied the blackening fluid. It took about 45 minutes to dry. I applied a second coat. Success!
I don't know how it will hold up or how frequently it will need to be reapplied. But I love the results after the second coat dried. The color is nearly spot on, the sheen is ever so slightly glossier. Still satin-y. The big thing is now my eye is not drawn to the miscolored panel.
And most importantly, I just finished a 30 mile highway trip and the ACC/Lane Centering worked perfectly. All the same. No impact. I will report back about how it holds up over the continued Washington State winter and into the Spring. If it has to be reapplied more than 2-3 times a year, it probably is not worth the effort to me.
Final product