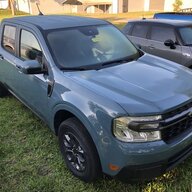 Well-known member
First Name

Tom
Joined

Aug 21, 2022
Threads
Messages
Reaction score

41
Location
Vehicle(s)

Subaru Forester
Trim

XLT
The issue is that "how modern manufacturing works" has left us with a 4 day window to order a truck that might be built within a year. The reason modern manufacturing IS modern is because it replaced, incrementaly, older styles in various parts of the vast system. It got modern because it was modernized. That is not a one and done thing. It is a constant improvement. I am suggesting ideas. The winds of change once blew us to here, the now. Now they are blowing us somewhere else.

Tides go back and forth, trends go back and forth, science goes back and forth. Maybe, and this is just a idea not a decree, manufacturing processes can go back and forth too. If a company cant get something, that is required for it to make money, then it should think about making the thing that they need or atleast getting more involved with the people that do make it.

Im throwing ideas into the endless void of cyberspace. What is it that every one who is refusing my ideas tossing in? Other ideas or just rebuttals?
Your right the tide is shifting. The ideal of Globalism has failed. The supply chains are broke. Just-in-time manufacturing with sourcing from distant lands and/or companies not aligned to your business or interest with too many points of failure between you and your plants or customers is coming home to roost.