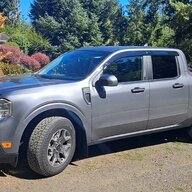 Member
Here is my new Maverick Lariat. AWD, FX4, Tow package, Moon roof, auto rear window.
I ordered a fairly decked out XLT in Carbonized Grey in late summer. With no build scheduled and the last ski season with my son approaching, I kept searching inventory within 100 miles of home (it usually didn't take long). Last week a local dealer had two available and I jumped at the chance.
Yes, I'm one of the idiots paying over MSRP.
I won't cover things you already know.
One thing I have not experienced before is the auto-brake that keeps the truck stopped without keeping your foot on the brake in traffic. You can turn in on and off but I'm already hooked.
I love that you can pull out all the trays etc. in the console storage areas. Will make keeping them clean so much easier.
I added a traditional 12v outlet inside one of the storage bins in the bed. Simple and I appreciate the DIY aspect. However while the job was relatively straight forward and inexpensive....I couldn't help but think...why didn't they just do this? Or offer as an option?
In just over 500 miles of mixed driving, the computer says I'm averaging 28. On my local roads I can keep it over 30.
If the truck I ordered ever gets scheduled, I'm not sure what I will do, raffle maybe?