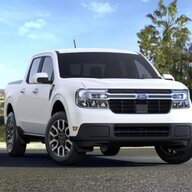 Well-known member
First Name

Chris
Joined

Aug 31, 2021
Messages
Reaction score

58
Location
Vehicle(s)

Volvo
Trim

Lariat
It may sound like a weird question, but hear me out:
While 3d Printing is fun and super-useful for that unusual one-off piece, it is not yet ready to take over for something that is easily mass produced. Injection molded parts are still the way to go on plastic parts, yet every picture I've see of the FITS parts look like they're 3D printed.
I would have assumed that Ford would show off some 3D printed items as a 'proof' of concept, but then manufacture their official accessories using standard processes.
All of the pics on the official accessories page are way too rough and unpolished to be final.
https://accessories.ford.com/ford-integrated-tether-system-fits-package.html#2022/Maverick
Example:
The Trashcan: you can see all the layers and lines that are typical in 3d printed products.
View attachment 9505
Cable Organizer:
Also, 3D printed parts are SLOW to make. I can't imagine that its efficient and cost effective to print these on demand.
Thoughts?