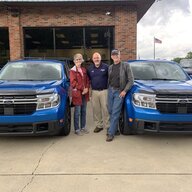 Well-known member
I'm sure everyone is about over seeing pics of bed covers and rack systems, but that said for those that are still looking here's a few more.
I purchased these aftermarket as a set and have just installed them. They look and work very very nice together.
Have kayak will paddle!!
Purchased from Tonneau Cover Factory Outlet. I have included a link for anyone who might be interested:
[email protected]
(Disclaimer:I have no financial interest. Just think they have good products that fit Mav perfectly and they have been good to work with.)
edit: More pics have been posted on page 3 of this tread at the request of viewer.
Last edited: