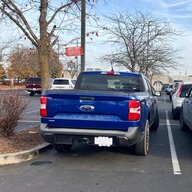 Well-known member
First Name

Mike
Joined

Jul 5, 2023
Threads
Messages
Reaction score

104
Vehicle(s)

2023 Mav Hyb/lux
Engine

2.5L Hybrid
Nope....while they sound interesting I think Biden is full of crap. The USA is not anywhere near ready for everyone to have an EV vehicle. The power grid couldn't handle the demand. In addition, I'd have to upgrade the electric service coming into my house in order to put a charging station as well as the electric panel. God only knows how much that would cost at today's crazy prices, just to charge it. Plus like others have posted the range EV's are getting are nowhere near adequate for travel. They may be great for local commutes to work and to go to the store, but traveling on vacation or sightseeing, NOPE. In my opinion they won't be ready until they have a range of 500 miles or more.
I acknowledge your concerns. If you travel a lot, or have a long commute, an EV may not work for you. But those are very specific issues that (according to many articles I've read over the last few years) that do not pertain to the vast majority of individuals.

While I am sure it depends on where you live, I was able to have a 240V outlet installed for about $700, plus the actual charger at $480. I am lucky enough to receive my electricity from a coop, which keeps my prices low. Neighbors just a mile north of my place have to get their power from a for-profit corporation. They pay a good 30% more for the same electricity.

I decided to go electric BECAUSE my electricity is so affordable (~$0.08 / kWh). I travel within a 80 mile radius around my home 95% of the time. In over a year of ownership I've only driven further than 200 miles on a single trip three times. Those trips took some planning, which is not for everyone.

Lastly, if you so desire, feel free to call me God.

It is but a quick calculation to determine how much it costs to charge an electric vehicle.

$ = A*B

Information needed for this calculation:

A

(cost per kWh)

B

(number of kWh charged)

For example, my car (Kia Niro EV) has a 64.8 kWh battery. IF it was at 0 (not likely, but let's pretend)

it would cost

$5.184

to charge it to 100%

.

64.8

*

0.08

=

5.184

(My electric rate is actually less than $0.08 / kWh, but I rounded up due to monthly meter fees).

If you want to know how much it costs to drive a specific distance:

$ = (D/M) * A

D

(number of miles driven)

M

(miles per kWh) - your EV would more than likely have a display that provides this information. Most EVs achieve between

3.5 and 4 miles / kWh

. Your mileage may vary.

A

(cost per kWh)

So let's go on a

500 mile trip

, which for me would take me to the beach and back. So let's make that a weekend get-away. Obviously I won't be able to charge at home, and public chargers are significantly more expensive (~$0.30 / kWh). But at my destination I will ensure that I stay at a hotel that has a level 2 charger, which will allow me to charge overnight at reasonable rates (or for free, still a perk at many hotels).

First calculation:

How many kWh will I need for this trip?

500

/

3.5

=

142.857 kWh

(actual consumption depends on driving style, weather, traffic, and elevation changes, but my average m/kWh is usually better than 3.5)

Second calculation:

How much will this cost?

142.857 kWh

*

$0.30

=

$42.857

(IF it was 100% charged at public level 3 chargers)

((

142.857 - 52

) *

$0.30

) =

$27.257

(assuming I can charge from 20% to 100% at hotel for free)

I hope this suffices to show you that you may have been lied to / fooled by those who have an interest in keeping you attached to the fossil fuel tit...

We can compare this to your car, but

Wait!!! What???

@SgtLip

has been banned and will not see my well-thought out and properly researched and calculated response????? Curse you moderators!!!!!

No, I don't curse you, please don't ban me, too!!!