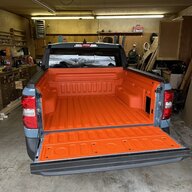 Well-known member
Hey all, sharing bc I'm pretty jazzed. I took
this post
and
this post
and combined them to do my own orange bedliner!
This took a couple days of prep, because I was meticulous about sanding and taping.
I bought the
4 qt Raptor tintable liner kit
and
Safety Orange tint
, sanded the whole bed, and got after it. It ended up a great color irl (not quite as neon as the 2nd picture suggests).
I'm so proud I just had to share!
EDIT: By the way, if you are in the Denver Metro area, and want help with doing this, I'd be glad to get together and give a few pointers. For anyone else that is thinking of doing this, please feel free to DM me if you want any advice.
Last edited: