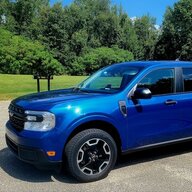 Well-known member
I've been watching this simple unit for a while. It's a 2023 Outbound Extreme XT. Only bad thing is it is pretty tall at 93", but I will be able to stand in it. EW is about 1100#. This will fit in my Garage at home. Wide enough for a queen Mattress, and it has 2 58"x24" bunk beds up front. List price with options was $13,170. You don't get much camper at any price any more. This will work for our road trips.
Above was the original asking price. I like that the optional wrap will somewhat match my Atlas Blue Hybrid. Above you can see the bunks, it also has the Electric package, with Air conditioner and storage cubby above. Bunks will most likely be used for storage too, unless a grandchild comes with.
Paying $5495, plus $100 doc fee. Nothing else really compares for the money. Should tow pretty easy at 65mph.